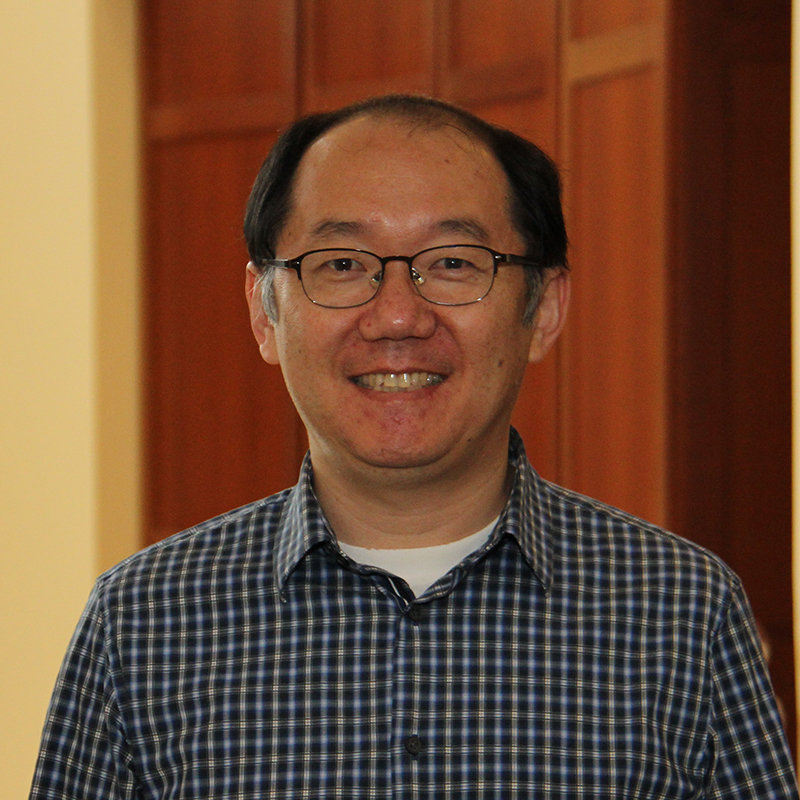 Jin Kim
Associate Professor
Degrees
| | | |
| --- | --- | --- |
| Ph.D. | Communications | University of Iowa |
Professional Experience
A film reviewer/contributor at Kino (a Korean movie website; 1998-2001)
Teaching Interests
My major teaching areas are communication-media theories, research, digital culture, media criticism, global cinema, and the SF/Horror film genre.

Courses taught include:
COM 482: Topics of New Media and Film: Digital Culture and Communications
COM 482: Topics of New Media and Film: Global Cinema
COM 398: Research in Communications
COM 315: Media Criticism
COM 298: Introduction to Communication Theory
COM 222: Film Genre: Science Fiction & Horror
Research/Creative Works
My research interests are critical media studies and communication technologies.
Journal publications:
Kim, J. (2012). The institutionalization of YouTube: From user-generated content to professionally generated content. Media, Culture & Society 34(1), 53-67.
Kim, J. (2014). Interactivity, user-generated content and video game: An ethnographic study of Animal Crossing: Wild World. Continuum: Journal of Media and Cultural Studies 28(3), 357-370.
Works in progress:
Kim, J. (2017). User-generated sex talks on YouTube: Sexuality, ordinariness and interactivity in Kicesie video series.
Kim, J. (2017). Reconstructing family and governmentality in a post-apocalyptic drama The Walking Dead.
Kim, J. & Grant, R. (2017). Citizen activism and user-generated content on social injustice: Analysis of police brutality videos on YouTube.

Conference papers (Selected):
"Otherness, whiteness and double-alienation: Postcolonial globalization in Clare Denis' films." Co-Authored with Kristen Vet. New York State Communication Association, Intercultural Communication, Callicoon, New York, 2015
"Dialectics of book burning: Technological reproducibility, aura and rebirth in Fahrenheit 451." Co-Authored with Shannon Mish. AEJMC, Scholar-to-Scholar, San Francisco, California, 2015
"Myths of information society: New media discourses in the United States during the 60s and the 70s." NCA, Rhetoric of Science and Technology, Chicago, Illinois, 2014
"Online celebrities, gossips and para-social relationship: Perez Hilton as a virtual opinion leader." Co-authored with Cassandra Miller. Popular Culture Association, Celebrity Studies, Washington, D.C., 2013
"Diasporas in virtual homeland: The role of the Internet in the lives of female Nigerians." Co-authored with Ayanfeoluwa Olonade. ICA, Intercultural, Phoenix, Arizona, 2012
"Celebrity use of Twitter: User co-creation and customization in digital culture." Co-authored with Julia van Klompenberg. NCA, Communication and the Future, New Orleans, Louisiana, 2011
"Construction of surrogate families in the films of Atom Egoyan." NCA, Communication as Social Construction, San Francisco, California, 2010
"Rise and fall of Napster: Peer-to-peer technologies and market suppression." Midwest Popular Culture Association, Detroit, Michigan, 2009
"Creating reality in documentary: Triumph of the Will." AEJMC, Visual Communication Division, Chicago, Illinois, 2008
"Eavesdropping: A fundamental condition of communication." NCA, Rhetorical and Communication Theory, Chicago, Illinois, 2007
"YouTube and publicness: Virtual video library, hybridity, interactivity." NCA, Communication and the Future, Chicago, Illinois, 2007
"Historicizing digital media: Benjamin in the age of digital reproducibility." NCA, Student, Chicago, Illinois, 2007
"Minitel and the development of French information society." NCA, Scholar to Scholar, San Antonio, Texas, 2006
"Lessons from DTV technology standardization process in Europe: Implications for HDTV diffusion in the United States." NCA, Communication and the Law, Boston, Massachusetts, 2005