Thank You to Our Valued Partners Who Help Make this Season Possible
Tim Reynolds – Solo Acoustic Performance
Friday, December 2, 7:30 p.m.
With a musical career spanning more than thirty-five years, guitarist and sonic innovator Tim Reynolds is known for his masterful command of melody and timing and for his uncanny ability to improvise on any instrument he touches. Having explored most musical styles, from rock, jazz and blues to classical and reggae, Reynolds' wide-ranging musical versatility is evident each time he picks up his acoustic or electric guitar. Technically brilliant, yet emotionally honest, Reynolds' music is inspired and authentic.Upon graduating from high school, Reynolds left the constraints of his conservative upbringing and eventually moved to Charlottesville, VA, where he explored his musical craft even further, adding psychedelic and progressive rock to his burgeoning repertoire of music.

Saxophonist Steve Wilson, Pianist George Cables, Bassist Ira Coleman Team Up for Concert
Friday, December 9, 7:30 p.m.
Old friendships, new dynamics: Steve Wilson, George Cables and Ira Coleman come together for the first time to present an evening of elegant chamber jazz at The College of Saint Rose.
With Special Guests The Art D'Echo Trio
Returning to the Massry Center, Steve Wilson has attained ubiquitous status in the studio and on the stage with the greatest names in jazz. A bandleader in his own right, Jazz Times calls him "the consummate saxophonist-composer" and "one of the finest alto and soprano saxophonists of our time." A musician's musician, Wilson has brought his distinctive sound to more than 150 recordings led by such celebrated and wide-ranging artists as Chick Corea, George Duke, Michael Brecker, Dave Holland, Dianne Reeves, Maria Schneider, Joe Henderson, Charlie Byrd, Billy Childs and Mulgrew Miller among many others, as well as nine albums as a leader.
George Cables has emerged as a major voice in modern jazz. Currently, he is performing and recording as a solo pianist, with trios and larger ensembles, and as a clinician in college jazz programs. In addition to composing and arranging for his own albums, Cables has contributed to recordings by Dexter Gordon, Art Pepper, Freddie Hubbard and many others. He is noted for his fresh interpretations of classic compositions and for his innovative style of writing. Cables has performed with Roy Haynes, Max Roach, Art Blakey, Sonny Rollins, Freddie Hubbard, Woody Shaw, Sarah Vaughn and more.
Over the years, Ira Coleman has worked with such well-known figures as Cab Calloway, Freddie Hubbard, Betty Carter, Branford Marsalis, Herbie Hancock, Wayne Shorter, Jessye Norman, Plácido Domingo and Sting. He was musical director for vocalist Dee Dee Bridgewater and toured with her internationally from 2002 until 2009. Coleman is an adjunct faculty member at The College of Saint Rose teaching recording ensembles and applied bass lessons.
ABOUT THE ART D'ECHO TRIO
David Gleason is a Capital Region pianist, composer and music educator. He has performed with ensembles such as RumbaNaMa, The Boston Latin Band, The Either/Orchestra, Altiplano and The Empire Jazz Orchestra and with such renowned musicians as Lee Konitz, Laurel Masse, Fred Wesley, Danilo Perez and John Fedchock. Currently, Gleason leads the acclaimed Latin jazz ensemble Sensemaya.
A 2003 graduate of Saint Rose, Mike Lawrence is in his 13th year of teaching strings in the Schenectady City School District. Recent music projects include Bopitude, whose debut recording received national radio airplay with a second album released in 2012, Keith Pray's Soul Jazz Revival and Mike Benedict's Jazz Vibes.
Pete Sweeney is a drummer, author and educator who performs in every genre of music. He has performed, recorded and toured with such outstanding artists as Pat Metheny, Lee Ritenour, Robben Ford, Frank Gambale, Ronnie Earl, Andy Summers (The Police), Malcolm Cecil and Jay and the Americans. In addition, Sweeney has written 18 drum instructional books as well as three DVDs and has numerous instructional lessons online with Workshoplive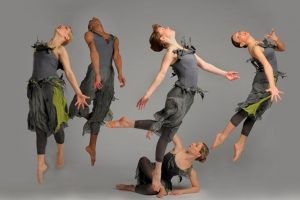 Ellen Sinopoli Dance Company – Modern Dance Modern Compositions
Friday, January 27, 7:30 p.m.
A foundational component of the Capital Regions dance community for over 25 years, Albanys own modern dance company embarks on a new venture with The College of Saint Rose for an evening of original dance with live music performed by student and faculty ensembles.
Part of the DANCE ALBANY! dance series partnership with UAlbany and the Egg
The Wood Brothers
Friday, February 3, 7:30 p.m.
Dubbed masters of soulful folk by Paste, The Wood Brothers released their debut studio album, Ways Not to Lose, on Blue Note in 2006. Chris Wood already had legions of devoted fans for his incomparable work as one-third of Medeski Martin & Wood, while his brother Oliver toured with Tinsley Ellis before releasing a half-dozen albums with his band King Johnson. Almost a decade later and with drummer Jano Rix added as a permanent third member, it is clear that The Wood Brothers is indeed the main act.
 
Saint Rose Camerata
February 11, 7:30 p.m.
Free and Open to the Public
Saint Rose Camerata presents Trio for flute, violin and piano by Giovanni "Nino" Rota (composer of scores to the Godfather films and Zeffirelli's Romeo and Juliet), Schumann's song cycle masterpiece Dichterliebe; Goodbye my Fancy for flute, soprano and guitar by American composer, William Flanagan, and Refractions for solo guitar by Andrew McKenna Lee, Assistant Professor of Music at The College of Saint Rose.
Performers include:
Margaret Lampasi, soprano
Leroy Bynum, tenor
Yvonne Chavez Hansbrough, flute
Amanda Brin, violin
Andrew McKenna Lee, guitar
Young Kim, piano

The Bridge Jazz Festival
February 24 Troy Music Hall: Featuring the Dirty Dozen Brass Band & TBA
February 25 Massry Center for the Arts: The Chronicles, Cyrille Aimee, Maceo Parker
Back for a third year: two nights of music as two of the area's best music venues team up once again for one great event for Capital Region jazz lovers.
The Troy Savings Bank Music Hall lineup on February 24 features The Dirty Dozen Brass Band
February 25 Massry Center for the Arts: The Chronicles, Cyrille Aimee, Maceo Parker
Funding Made Possible by the Mid Atlantic Arts Foundation
Maceo Parker: his name is synonymous with Funky Music, his pedigree impeccable; his band: the tightest little funk orchestra on earth.It's fairly common knowledge that Maceo has played with each and every leader of funk, his start with James Brown, which Maceo describes as "like being at University"; jumping aboard the Mothership with George Clinton; and his ongoing part in Prince's tours. He's the living, breathing pulse which connects the history of Funk in one golden thread. The cipher which unravels dance music down to its core.
"Everything's coming up Maceo," concluded DownBeat Magazine in a 1991 article at the beginning of Maceo Parker's solo career. At the time Maceo was a remembered by aficionados of funk music as sideman; appreciated mainly by those in the know. For the last two decades Maceo Parker has been enjoying a blistering solo career, building a new funk empire; one that is both fresh and stylistically diverse. He navigates deftly between James Brown's 1960's soul and George Clinton's 1970's freaky funk while exploring mellower jazz and the grooves of hip-hop.
Vocalist Cyrille Aimée was primarily raised in France by a French father and Dominican mother. As a curious child in Samois-sur-Seine, she would sneak out of her bedroom window to wander into the nearby gypsy encampments filled with those attending the annual Django Reinhardt Festival.She quickly fell in love with gypsy music and way of life; years later she would sing on street corners with friends while traveling across Europe. While in the midst of one such odyssey, she found herself at the Montreux Jazz Festival, where she won first prize in the vocal competition – which included the financing of her first self-produced album.When Aimée audtioned for the Star Academy (a kind of French  American Idol), she became a finalist. Informed she would have to sing only what she was told, her gypsy spirit rebelledand in what was a cause célèbre she walked from the competition.
She now happily tours the world with her band as well as in a duo setting with Brazilian guitarist Diego Figueiredo. Aimée's talents also recently caught the attention of Stephen Sondheim, who cast her in an Encores Special Presentation at New York City's City Center in November 2013.
The New York Times referred to Aimée's major label debut in August 2014, as "a bravura turn, presented with a smile."
 
Release The Hounds: An Evening with Julian Lage & Chris Eldridge | Aoife O'Donovan
Friday, March 24, 7:30 p.m.
A night of intrepid songwriting and acoustic innovation, beginning with Aoife O'Donovan at center stage. O'Donovan draws from her catalogue of songs, played as she wrote them; with just her acoustic guitar and voice. The Washington Post describes her singing as "almost too gorgeous for its own good." Julian Lage & Chris Eldridge follow with their masterly acoustic performance typical of the virtuosic duo, known for pushing the envelope of folk, bluegrass, and jazz. Showcasing, as The New Yorker writes, a "familiarity with the fretboard…so extravagant and capacious that they bring flourishes to this music that it simply hasn't enjoyed before," their performance is sure to astound. The evening concludes with all three on stage together in an aural-hootenanny.
Saint Rose Camerata Season Finale – Unraveling

Saturday, March 25, 7:30 p.m.
Free and Open to the Public
Saint Rose Camerata's Season Finale includes the famous masterpiece Wind Quintet by Danish composer Carl Nielsen and Unraveling (2007) for electric guitar, percussion, and looping machines by Saint Rose faculty composer/guitarist Andrew McKenna Lee.
Performers:
Yvonne Chavez Hansbrough, flute
Sherwood Wise, oboe
David Ciucevich, clarinet
Susan Daves Loegering, bassoon
Victor Sungarian, horn
Andrew McKenna Lee, electric guitar
Jude Traxler, guest percussionist

Thibaut Garcia – Classical Guitar Concert
Sunday, April 2, 3:00 p.m.
Born in Toulouse in France, Thibaut Garcia begins to play the guitar at the age of seven. His Spanish origins give him a real influence in his way of thinking. He studied in Toulouse where he got his chamber music diploma in the class of Renaud Gruss, and his guitar diploma with the honour mention in the class of Paul Ferret. At sixteen he enters the Conservatoire National Supérieur de Musique et de Danse de Paris (CNSMDP) ans studies with Olivier Chassain with whom he got his bachelor with the honours. He studies in private lessons with Judicael Perroy.
At twenty one, Thibaut won several international competititons prize:
1st prize of the international competition of GFA, Oklahoma City (U.S.A) 2015. 1st prize of the international competition Jose Tomas (Spain) 2014. 1st prize of the international competition of Sevilla (Spain) 2013. 1st prize of the international competition Terra Siculorum (Romania) 2013. 1st prize of the international competition Ana Amalia, Weimar (Germany) 2011. 1st prize of the international competition Valle de Egues (Spain) 2008.
Thanks to the first prize of the international competition of Sevilla in 2013 and the first prize of the Jose Tomas intenational competition in Spain in 2014, Thibaut is invited to play all around the world (France, Spain, England, Germany, Romania, Hungary, Canada, United States, Brazil, Greece, Argentina, Mexico, Russia, China).
He just won the 1st prize of the Guitar Foundation of America 2015. The GFA competition is one of the the most prestigious and respected event in the classical guitar world (more than 50 concerts to win in USA, recital at Carnegie Hall, Naxos recording, GHA recording, Mel BAY collaboration).

An Evening with the John Pizzarelli Quartet
Friday, April 21, 7:30 p.m.
John Pizzarelli, the world-renowned jazz guitarist and singer, was called "Hip with a wink" by Town & Country, "madly creative" by the Los Angeles Times and "the genial genius of the guitar" by The Toronto Star. When he performs with his wife, singer/actress Jessica Molaskey, and his father, guitar legend Bucky Pizzarelli, they were labeled "the First Family of Cool" by the San Francisco Chronicle and "the von Trapps on Martinis" by The New Yorker. According to The New York Times, "the Pizzarelli-Molaskey duo are as good as it gets in any entertainment medium."After his recent smash success with the Boston Pops, he was hailed by the Boston Globe for "reinvigorating the Great American Songbook and re-popularizing jazz." And the Seattle Times called him "a tour de force" and "a rare entertainer of the old school." Before a recent show in the northwest, the local paper quipped "John Pizzarelli is so impossibly cool, he shouldn't be legally allowed to enter Oregon."