The Bumper Jacksons
Friday, September 23, 7:30 p.m.
About The Bumper Jacksons: The BUMPER JACKSONS are on a roll. Folding sounds of jazz, early blues, old-time music, and country swing into an exhilarating repertoire of modern American roots music, the DC-based band has brought a hard-driving party energy to countless dance floors. With three recent Washington Area Music Awards and many dozens of jubilant live shows under their collective belt, theyve produced their second album,TOO BIG WORLD, a sweetly balanced collection of hot swing numbers, heart-break ballads, and late-night moonshine foot-stompers.
An Evening with Livingston Taylor and the Saint Rose Orchestra
Saturday, October 1, 8:00 p.m.
Livingston Taylor picked up his first guitar at the age of 13, beginning a 40-year career that has encompassed performance, songwriting and teaching. Born in Boston and raised in North Carolina, Livingston is the fourth child in a very musical family that includes Alex, James, Kate and Hugh. Livingston recorded his first record at the age of 18 and has continued to create well crafted, introspective, and original songs that have earned him listeners worldwide.From top-40 hits I Will Be in Love with You and Ill Come Running, to I Can Dream of You and Boatman, both recorded by his brother James, Livingston's creative output has continued unabated. His musical knowledge has inspired a varied repertoire, and he is equally at home with a range of musical genresfolk, pop, gospel, jazzand from upbeat storytelling to touching ballads.
Harry White  – Saxophone Recital
Saturday, October 22, 7:30 p.m.
Free and Open to the Public – Courtesy of John Keal Music
"Critics claim that hearing saxophonist Harry White is like hearing the instrument with new, different ears… White's variety in articulation, his silky soft tone and his precision make his playing inimitable. During the performance he is like a mystic sunk in deep contemplation." These lines are from a review in the "Badische Zeitung" which was reprinted in the international music magazine "Das Orchester".Harry White grew up in Mississippi and received his first instruction there from Warren and Marti Lutz. He studied with Lawrence Gwozdz at the University of Southern Mississippi, with Paul Cohen at the Manhattan School of Music and with the pioneer of classical saxophone Sigurd Raschèr in upstate New York. Harry White was a member of the Raschèr Saxophone Quartet between 1990-2001 and regards his time in the quartet as one of his most influential musical experiences. As a member of this ensemble he performed world premières of composers like Luciano Berio, Philip Glass, Sofia Gubaidulina and Charles Wuorinen with appearances in many of the important halls of Europe and the USA: Carnegie Hall and Lincoln Center New York, Kennedy Center Washington D.C., Philharmonic Hall Berlin, Royal Festival Hall London, Opera Bastille Paris, etc.

Comedy Night! With Andy Pitz, Dan Guerin, and Erin Harkes
Friday, November 11, 7:30 p.m.
Andy Pitz (even his name is funny!) has been a mainstay in comedy venues of all kinds for over 20 years. His unique style and smart humor has landed him appearances on The Late Show with David Letterman and The Late Late Show with Craig Ferguson, to name but a few. Andys takes on marriage, parenting and his own inadequacies are some of the funniest youre going to hear. Originally from Buffalo NY, he currently lives in Rockland County NY with his wife, daughter, in-laws and some pets. In his spare time he tries to create some spare time.
Erin Harkes has only been on the comedy circuit for four years, but her dry wit and sarcasm coupled with audience rapport has made her very successful in a short amount of time. Shes won local contests and performed all over New York State and beyond. In 2014 and 2015 she was voted Albanys Best Local Comedian by Metroland. (local arts and entertainment magazine)
She performs at Gotham Comedy Club, Broadway Comedy Club, Greenwich Village Comedy Club, New York Comedy Club and The Stand in NYC, the Comedy Works in Albany, Foxwoods Casino in Connecticut, Funny Bone in Syracuse, Albany and Hartford and SheDot Comedy Festival in Toronto (three years running). She also produces her own shows on a monthly basis featuring local and nationally touring comedians.
Tim Reynolds – Solo Acoustic Performance
Friday, December 2, 7:30 p.m.
With a musical career spanning more than thirty-five years, guitarist and sonic innovator Tim Reynolds is known for his masterful command of melody and timing and for his uncanny ability to improvise on any instrument he touches. Having explored most musical styles, from rock, jazz and blues to classical and reggae, Reynolds' wide-ranging musical versatility is evident each time he picks up his acoustic or electric guitar. Technically brilliant, yet emotionally honest, Reynolds' music is inspired and authentic.Upon graduating from high school, Reynolds left the constraints of his conservative upbringing and eventually moved to Charlottesville, VA, where he explored his musical craft even further, adding psychedelic and progressive rock to his burgeoning repertoire of music.

Steve Wilson, George Cables and Ira Coleman Trio
Friday, December 9, 7:30 p.m.
This concert is presented in conjunction with the College of Saint Rose Artist Management Class.
Steve Wilson has attained ubiquitous status in the studio and on the stage with the greatest names in jazz, as well as critical acclaim as a bandleader in his own right. A musician's musician, Wilson has brought his distinctive sound to more than 150 recordings led by such celebrated and wide-ranging artists as Chick Corea, George Duke, Michael Brecker, Dave Holland, Dianne Reeves, Bill Bruford, Gerald Wilson, Maria Schneider, Joe Henderson, Charlie Byrd, Billy Childs, Karrin Allyson, Don Byron, and Mulgrew Miller among many others. He has eight recordings as a leader.Starting his formal training on saxophone in his native Hampton, Virginia, Wilson also played oboe and drums in school bands while performing in various R&B/funk bands throughout his teens. After a year-long stint with singer Stephanie Mills he majored in music at Virginia Commonwealth University in Richmond, where he performed and/or studied with Jimmy and Percy Heath, Jon Hendricks, Jaki Byard, John Hicks, Frank Foster and Ellis Marsalis. During those years he was also in constant demand for recording studio work, and as backing musician for touring shows such as The Four Tops and Sophisticated Ladies. Landing a chair with O.T.B (Out of the Blue), a sextet of promising young players recording on Blue Note Records, Wilson moved to New York in 1987 and the following year toured the U.S. and Europe with Lionel Hampton. Becoming a first-call choice for veteran and emerging artists alike, Wilson was the subject of a New York Times profile "A Sideman's Life", highlighting his work with Ralph Peterson, Jr., Michele Rosewoman, Renee Rosnes, Marvin "Smitty" Smith, Joanne Brackeen, The American Jazz Orchestra, The Mingus Big Band, The Smithsonian Jazz Masterworks Orchestra, and Buster Williams' Quintet "Something More". In 1996 he joined the acclaimed Dave Holland Quintet, and from 1998-2001 he was a member of Chick Corea's Grammy winning sextet "Origin". Wilson documented his first four recordings as a leader on the Criss Cross label  New York Summit, Step Lively, Blues for Marcus and Four For Time. He then recorded two projects for Chick Corea's Stretch Records label  Generations, and Passages. In 2003 Wilson's recording Soulful Song was released on MAX JAZZ launching the label's Horn Series.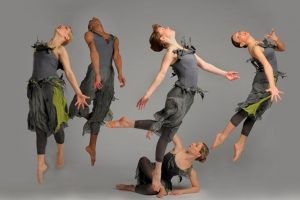 Ellen Sinopoli Dance Company – Modern Dance Modern Compositions
Friday, January 27, 7:30 p.m.
A foundational component of the Capital Regions dance community for over 25 years, Albanys own modern dance company embarks on a new venture with The College of Saint Rose for an evening of original dance with live music performed by student and faculty ensembles.
Part of the DANCE ALBANY! dance series partnership with UAlbany and the Egg

The Bridge Jazz Festival
February 24 Troy Music Hall: Featuring the Dirty Dozen Brass Band & TBA
February 25 Massry Center for the Arts: The Chronicles, Cyrille Aimee, Maceo Parker
Back for a third year: two nights of music as two of the area's best music venues team up once again for one great event for Capital Region jazz lovers.

The Troy Savings Bank Music Hall lineup on February 24 features The Dirty Dozen Brass Band

February 25 Massry Center for the Arts: The Chronicles, Cyrille Aimee, Maceo Parker

Funding Made Possible by the Mid Atlantic Arts Foundation

Maceo Parker: his name is synonymous with Funky Music, his pedigree impeccable; his band: the tightest little funk orchestra on earth.It's fairly common knowledge that Maceo has played with each and every leader of funk, his start with James Brown, which Maceo describes as "like being at University"; jumping aboard the Mothership with George Clinton; and his ongoing part in Prince's tours. He's the living, breathing pulse which connects the history of Funk in one golden thread. The cipher which unravels dance music down to its core.

"Everything's coming up Maceo," concluded DownBeat Magazine in a 1991 article at the beginning of Maceo Parker's solo career. At the time Maceo was a remembered by aficionados of funk music as sideman; appreciated mainly by those in the know. For the last two decades Maceo Parker has been enjoying a blistering solo career, building a new funk empire; one that is both fresh and stylistically diverse. He navigates deftly between James Brown's 1960's soul and George Clinton's 1970's freaky funk while exploring mellower jazz and the grooves of hip-hop.

Vocalist Cyrille Aimée was primarily raised in France by a French father and Dominican mother. As a curious child in Samois-sur-Seine, she would sneak out of her bedroom window to wander into the nearby gypsy encampments filled with those attending the annual Django Reinhardt Festival.She quickly fell in love with gypsy music and way of life; years later she would sing on street corners with friends while traveling across Europe. While in the midst of one such odyssey, she found herself at the Montreux Jazz Festival, where she won first prize in the vocal competition – which included the financing of her first self-produced album.When Aimée audtioned for the Star Academy (a kind of French  American Idol), she became a finalist. Informed she would have to sing only what she was told, her gypsy spirit rebelledand in what was a cause célèbre she walked from the competition.

She now happily tours the world with her band as well as in a duo setting with Brazilian guitarist Diego Figueiredo. Aimée's talents also recently caught the attention of Stephen Sondheim, who cast her in an Encores Special Presentation at New York City's City Center in November 2013.
The New York Times referred to Aimée's major label debut in August 2014, as "a bravura turn, presented with a smile."

Julian Lage, Chris Eldridge, & Aoife O'Donova
Friday, March 24, 7:30 p.m.
Aoife O'Donovan is an American singer and songwriter based in Brooklyn. While she is best known as the founder and frontwoman of the string band Crooked Still, she is also one-third of the female trio Sometymes Why, and has appeared on the Prairie Home Companion radio program. Her collaborations have been numerous and stylistically wide-ranging, including such varied artists as jazz trumpeter Dave Douglas; Yo-Yo Ma, Stuart Duncan, Edgar Meyer, and Chris Thile's Goat Rodeo Sessions band; the Boston Pops Orchestra; and Olabelle. She has become a go-to vocalist in the American contemporary folk, bluegrass, and progressive Americana scenes, working with Jerry Douglas, Sarah Jarosz, Darol Anger, the Infamous Stringdusters, and Matuto.In 2001, O'Donovan was a founding member of Crooked Still. In 2003, she performed and recorded as part of the Wayfaring Strangers with Matt Glaser, Tony Trishka, Jamey Haddad, Jim Whitney, Andy Statman, and John McGann, as well as two other female lead singers: Tracy Bonham and future musical partner Ruth Ungar. In 2005 she formed Sometymes Why, the quirky "folk noir" trio with Ungar and Kristin Andreassen; they've recorded two albums.
About Chris Eldridge
As a member of Punch Brothers since the band's inception, guitarist Chris Eldridge has been at the vanguard of acoustic music for much of the past decade.  Although initially drawn to the electric guitar, by his mid-teens Chris Eldridge had developed a deep love for acoustic music, thanks in part to his father, a banjo player and founding member of the seminal bluegrass group The Seldom Scene. Eldridge later gained in-depth exposure to a variety of different musical styles while studying at Oberlin Conservatory, where he earned a degree in music performance in 2004. During his time at Oberlin, Eldridge studied with legendary guitarist Tony Rice. After graduating he joined the Seldom Scene with whom he received a Grammy nomination in 2007. In 2005 he founded the critically acclaimed bluegrass band The Infamous Stringdusters. At the 2007 International Bluegrass Music Association awards Eldridge and his Stringdusters bandmates won Emerging artist of the Year, Song of the Year, and Album of the Year for their debut album, Fork in the Road. Meanwhile, in 2005 he had caught the attention of mandolinist Chris Thile, who enlisted him, along with banjoist Noam Pikelny, violinist Gabe Witcher, and bassist Greg Garrison to start working on an
About Julian Lage
In addition to leading his own group, Lage is a member of Gary Burton's New Quartet and Eric Harland's Voyager. He also has a duo project with Chris Eldridge.Lage has played with such renowned artists as Jim Hall, Mark O'Connor, Ambrose Akinmusire, Dayna Stephens, Walter Smith III, Taylor Eigsti, Gary Burton, Eric Harland, Larry Grenadier, Fred Hersch, Béla Fleck, Antonio Sanchez, and Nels Cline, among others.A child prodigy, Lage was the subject of the 1997 documentary Jules at Eight.[2] At age 13 Lage performed at the 2000 Grammy Awards. He has been a faculty member at the Stanford Jazz Workshop at Stanford University[3] since age 15. Classically trained at the San Francisco Conservatory of Music, Lage has studied at Sonoma State University, Ali Akbar College of Music, and graduated from the Berklee College of Music in 2008.

Thibaut Garcia – Classical Guitar Concert
Sunday, April 2, 3:00 p.m.
Born in Toulouse in France, Thibaut Garcia begins to play the guitar at the age of seven. His Spanish origins give him a real influence in his way of thinking. He studied in Toulouse where he got his chamber music diploma in the class of Renaud Gruss, and his guitar diploma with the honour mention in the class of Paul Ferret. At sixteen he enters the Conservatoire National Supérieur de Musique et de Danse de Paris (CNSMDP) ans studies with Olivier Chassain with whom he got his bachelor with the honours. He studies in private lessons with Judicael Perroy.
At twenty one, Thibaut won several international competititons prize:
1st prize of the international competition of GFA, Oklahoma City (U.S.A) 2015. 1st prize of the international competition Jose Tomas (Spain) 2014. 1st prize of the international competition of Sevilla (Spain) 2013. 1st prize of the international competition Terra Siculorum (Romania) 2013. 1st prize of the international competition Ana Amalia, Weimar (Germany) 2011. 1st prize of the international competition Valle de Egues (Spain) 2008.
Thanks to the first prize of the international competition of Sevilla in 2013 and the first prize of the Jose Tomas intenational competition in Spain in 2014, Thibaut is invited to play all around the world (France, Spain, England, Germany, Romania, Hungary, Canada, United States, Brazil, Greece, Argentina, Mexico, Russia, China).
He just won the 1st prize of the Guitar Foundation of America 2015. The GFA competition is one of the the most prestigious and respected event in the classical guitar world (more than 50 concerts to win in USA, recital at Carnegie Hall, Naxos recording, GHA recording, Mel BAY collaboration).

An Evening with the John Pizzarelli Quartet
Friday, April 21, 7:30 p.m.
John Pizzarelli, the world-renowned jazz guitarist and singer, was called "Hip with a wink" by Town & Country, "madly creative" by the Los Angeles Times and "the genial genius of the guitar" by The Toronto Star. When he performs with his wife, singer/actress Jessica Molaskey, and his father, guitar legend Bucky Pizzarelli, they were labeled "the First Family of Cool" by the San Francisco Chronicle and "the von Trapps on Martinis" by The New Yorker. According to The New York Times, "the Pizzarelli-Molaskey duo are as good as it gets in any entertainment medium."After his recent smash success with the Boston Pops, he was hailed by the Boston Globe for "reinvigorating the Great American Songbook and re-popularizing jazz." And the Seattle Times called him "a tour de force" and "a rare entertainer of the old school." Before a recent show in the northwest, the local paper quipped "John Pizzarelli is so impossibly cool, he shouldn't be legally allowed to enter Oregon."