Almost everyone can name a special teacher they may have had as a child. At The College of Saint Rose, we have a long history of producing educators who go on to inspire students throughout their lives.
Schools in South Carolina hired two of those types of Saint Rose graduates. Shannon Peterson and Tiffany Smith were named Teacher of the Year in their school districts recently and went on to be honored during the South Carolina Teacher of the Year banquet.
We caught up with both of them.
Shannon Peterson '06 G'12 (Early Childhood/Special Education, Special Education)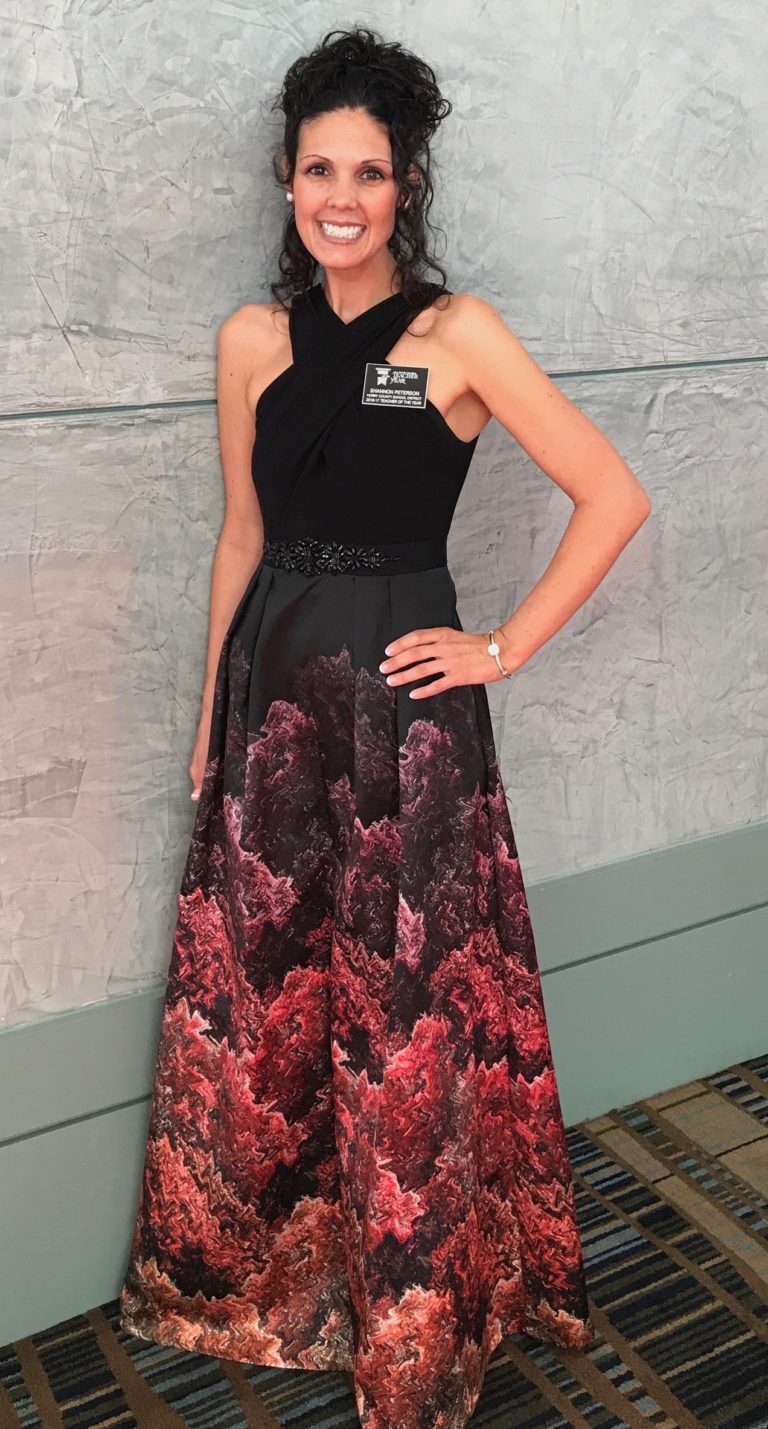 Her job: Peterson teaches early childhood special education (ages 3 through 5) in Horry County, South Carolina, and has been in the field of education for almost 12 years. She has worked as an Early Interventionist, ABA therapist, Special Education Itinerant, Special Education Consultant (Autism), and she is currently the director of Friday Knights II in the Myrtle Beach area. Her countywide school district – South Carolina's third-largest district – encompasses 51 schools and serves 42,000 students.
Can you tell us about your award?
In our district, teachers are first nominated by our peers at the school level. All school-level winners then submit an application for District Teacher of the Year. From all of those applications, the "Top 10" teachers are chosen. Those 10 then submit another application. From those 10 applications, the "Top 5" teachers are chosen, and they then go through an interview process with the Teacher of the Year Committee. Committee members also complete unannounced observations over a two-week period. The district winner is then revealed at the annual Teacher of the Year Banquet. District winners are then in the running for State Teacher of the Year, which mirrors our district process without the "Top 10." (Instead, a Top 5 are chosen.) I was not in Top 5 for state.
What was your Saint Rose experience like? How did what you learned as a student at Saint Rose influence your life as a teacher today?
I LOVED Saint Rose! I do not believe that I could have duplicated my experience anywhere else! The support and individualized attention that I received from my professors in education was amazing, and I remain extremely grateful and appreciative to them for the excellent education at Saint Rose. I believe that listening to and watching my professors, along with their passion and real-life experiences and examples of working with children, helped me to realize the importance of teaching the whole child and pushing them each to reach their maximum potential.
You started a version of the Saint Rose's Friday Knights, a social skills program for children in our community who are on the autism spectrum, in South Carolina. How did that come about?
Dr. (Susan) DeLuke and I started Friday Knights in Albany in 2005. I handled student-volunteer recruitment as we got it off the ground. I was there for its first year, and then moved to South Carolina. When I went back in 2009, I started right back up again. Social skills are my passion, so Friday Knights is a dream come true! There was not really a lot in my county in the way of outside opportunities for children with special needs at the time, so starting a program like Friday Knights here in Myrtle Beach became my mission.
I teamed with our local disabilities organization (DDSN) and a local nonprofit, SOS Healthcare, about five years ago to develop a "sister" program to FK. We are grant-funded, so it is considered a "respite" program and runs as a social rec program modeled after New York Friday Knights. A year or so ago, we parted ways with DDSN (not in a bad way), and now are solely run under SOS Healthcare. We have an older and a younger group, and they rotate Fridays, so we offer Friday Knights II four Fridays per month, two per group. We do rotations and activities/lessons, much like the New York model (art, science, games, movement, etc.) though our numbers are much smaller in comparison due to staffing and building space. We have about 25 younger kids and 20 to 25 older kids. The program is free for families, though we do have paid staff. We team with our local college, Coastal Carolina University, to recruit volunteers to do service hours each semester. This has worked well, and we are currently trying to expand our volunteer base by reaching out to even more staff at CCU to recruit more student volunteers.
Why teaching? Given the challenges facing education, what keeps you in it?
I have known since I was in elementary school that I wanted to be a teacher. I realized in high school that I wanted to be in early childhood, and that I wanted to work in special education. I have never considered NOT working in special education, nor have I ever wanted to leave the education field. It is truly a part of me, as cliche as that sounds, and my passion for teaching and continually striving to be better and do better only gets stronger over time. I wholeheartedly LOVE what I do. What keeps me in it, despite the challenges in education, is that I am there to make a difference in my students' lives. I value communication and rapport with their families, which helps with generalization of skills and provides a boost of confidence to families as they work with their child in the home or in the community.
Tiffany Smith '04 G'05 (Elementary Education, Literacy)
Her job: When Smith was nominated for the award, she was teaching third-grade math and science in Florence County School District Three. She is currently an interventionist at her school (Main Street Elementary), which means she gathers groups of students together to work with them on math and reading in a smaller setting. This year marks her 12th year of teaching. She has taught third, fourth, and fifth grades so far in her career.
Can you tell us about your award?
Each school district chooses a representative. The qualifications are different for each district. Mine started with nominations from fellow teachers in my school, then an overall vote for a school-level Teacher of the Year. All the school-level teachers of the year in the district then answer essay questions about their philosophy, community service, and education topics that are trending. I also had to submit a video of myself teaching a class. These factors are then judged by a panel, and the district teacher of the year is chosen. The district finalists are all in the running for the state teacher of the year. This is where Shannon and I reconnected.
What was your Saint Rose experience like? How did what you learned as a student at Saint Rose influence your life as a teacher today?
I lived on campus all four years as an undergrad (sophomore-senior I was an RA). The friendships that I made at Saint Rose continue on today, even though we are states apart. We get together at least yearly, and because the bonds that were created were so strong, we can pick right up where we left off. Saint Rose did a fantastic job placing me in schools of high poverty for both of my student teaching experiences. This very much prepared me for my teaching career. In my 12 years, I have always worked in a high-needs "Title I" school. These are schools that desperately need effective teachers.
Why teaching? Given the challenges facing education, what keeps you in it?
Although very stressful at times, I am still very satisfied with my career choice. Every day is different, and every day has its own set of challenges. I teach because of the feeling I get when working with a student after I realize they really "got it." It is one of the most satisfying feelings in the world. I teach because of the hugs and smiles I get every day.
Yes, teaching is hard. Teaching is stressful. Teaching has not turned out to be exactly what I expected. But teaching has proven to me to be one of the most rewarding things in my life! I am reminded daily that this is where God wants me to be. The days when I feel down about the job are outnumbered by the days I leave with my heart full, knowing I have made a difference in someone else's life.